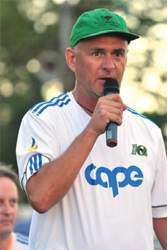 Sharp as a surgeon's scalpel, Bill Bailey operates the 10s' like clockwork. The tournament draws rugby players and enthusiasts from all over the country and the world to experience what is dubbed as the "best social rugby tournament in the world".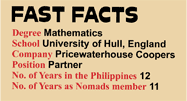 Take a glimpse of the man in command of the Manila 10s' and find out why sponsors do not hesitate to foot the bill.
How did you find out about the club? Idle chit chat in and around Makati when trying to find out if and where cricket was played in Manila. It was a flick up between Nomads and a carpark out near the Sofitel Plaza. Unsurprisingly, Nomads won the day and I joined on my first visit.
No. of Years doing the Manila 10s Started by supporting Chris Hartley in 2006 and have run it since 2007.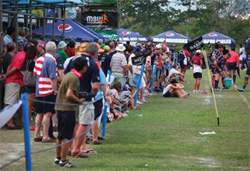 Manila 10s is a gargantuan task – why do you do it? It is somewhat addictive! Big task, yes - but with a committed team on board, each of whom knows what their tasks are, it actually runs fairly smoothly. I do it because I enjoy it - the day the enjoyment goes will be the day that I stop.
Vision of the 10s 5 years from now. To remain as Nomads' leading annual event and to be recognised around the world as one of the best run and most enjoyable social rugby tournaments anywhere. "Bigger and better" is always a catchphrase, but I think, with 32 teams, we have just about hit the max size-wise; however, "better" is always a target.
Do tempers flare during the Manila 10s meetings? No - we are not just a committee, we are a group of friends as well. None of us are in it for personal gain - maybe that is what takes the edge off. Sure we debate certain issues, but we have never ended up in an arguement or confrontation. The majority of issues are determined by consensus.
Your management style Have always admired Brian Clough.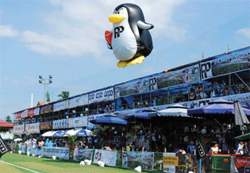 Politically, centrist, left-wing or right wing? One has to be apolitical to run the M10s with such a wide group of stake holders :-)
Bookstore or Bar? Yes - bookstore for buying books and bar for a drink. Preferably in that order.
Rolling Stones or Enya? Ha ha - listen to the playlists at the next Nomads' football tournament - that will give you a pretty good clue!
Achilles' heel Perfectionist at times (Virgo, mathematician - it all leads that way)
Recurring dream Turning up for my accountancy finals having done no preparation for the exams (rife across the profession).
Zegna suit or blue jeans with Nomads shirt? Tailored shorts and a golf shirt.
How about your own rugby career? Never played the game in my life!
High points from the M10s'? That has to be the overwhelming positive feedback that we get after the event - from players, coaches, sponsors, referees, members, staff - that makes it worthwhile.
Low points? People who are full of smart ideas and how they could do so much better - but never deliver (not too many and no names mentioned!)