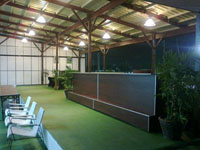 Completion of repairs and renovations in the club sped up mid March for the club's biggest event, the Manila 10s.
The Organizers' Area in front of the Squash Courts was recently given a facelift through repainting, re-wiring, installation of lights and re-lamination of tables and cabinets. The floor was painted with rubber paint in green to make it look for polished.
It took less than a month to finish the renovation which commenced last February 14 and completed on March 11. Junior Alampayan and Frankie Pelino, our maintenance staff, spearheaded the project at a cost of PHP 112,739 for both the materials and labor.
The area is regularly used to accommodate club association officials and media members during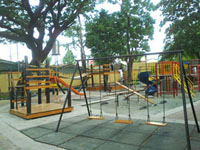 tournaments and special events.
The busiest portion of the club next to the field during the 10s, the Children's Playground, was likewise re-opened on March 11 which housed the Children's Festival also held during the 10s.
Total cost of renovation was PHP 91,888 and was ably led by our maintenance staff, Boy Balagot.
It was damaged during the last heavy typhoon which rendered it unsafe for children's play. Repair, repainting, removal of the nipa huts were done including the installation of additional lights. Minimal landscaping was done but more plants will be added in due time.