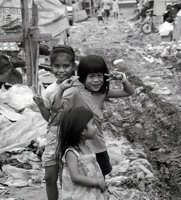 188 children plus the staff of Philippine Christian Foundation (PCF) held field games in Nomads last February 17. Food was pre­pared by the Manila Club.
PCF runs a school primarily catering to the children from Smoky Mountain who are among the poorest of the poor in the Philip­pines. The large garbage dumpsite is home to over 4,000 people who make their living picking through the garbage.
Large, green open space is not something that the children see every day having to wake up in the squalor of the garbage dump­site where their families earn as little as PHP 100 daily. To allow the children to experience playing in Nomads, PCF organized the field trip for the students in their Kindergarten , Grade 1 and 2. They were also accompanied by student volunteers from Southhampton, England.