Rugby. Just the word is enough to conjure up images of style, grace, poise, champagne, studded things and cauliflower ears. Nomads Rugby is all that and more.
Nomads were the founders of rugby in the Philippines, and we are proud to be made up of one of the most mixed groups in the Club, with guys from the Philippines, USA, Canada, Australia, New Zealand, France, England, Scotland, Wales, Holland, Belgium, Kenya and Zimbabwe in the current squad. Truly Barbarian and nomadic in spirit, a mixture of Pinoy poise, Gallic passion, American drive, Canadian civility, Australian application, Kiwi commitment, Pommie grit, and Dutch football nous. Maybe that explains some of the losses. And of course we have our sister team, the marvellous Bullettes ladies touch team – gotta love them.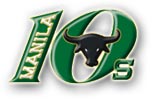 Visit Manila10s Website
We also draw in a lot of visitors and interested outsiders into the club – we host the Manila 10s each year, a showcase of Nomads and Manila for 32 rugby teams from around the country and across the globe. Manila 10s is held one week before the Hong Kong 7s each year, and is a real highlight.
The base of the rugby section remains strong but we're always keen to get more players in, so anyone is welcome. Our long-term push is getting more Pinoys into the club, and boosting the game where we can here in the Philippines. We play regularly against Alabang Eagles, Cebu Dragons, MAAP, Manila Japan, as well as touring teams and we look forward to working with them these teams and the PRFU to continue to spread the good word about the joys of rugby. We occasionally live up to our name and get Nomadic – with one or two international tours each year.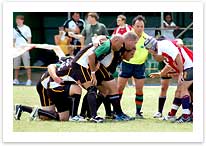 We get together each Wednesday night at 7:30pm for training – which generally combines some touch rugby (i.e. non-contact) with some more touch footy and very occasionally some skills and drills. Everyone is welcome. We play or train each Saturday at 4pm. For up to date info on training times and schedules check the rugby website. All the good news is at www.nomadsrugby.com.
Nomads Rugby is going strong and offers chances to run, pass, kick and tackle with a bunch of international comedians. Don't miss out.
It's a life, it's a love, it's rugby. You know it makes sense.